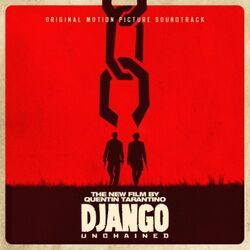 The soundtrack for Django Unchained features both original as well as existing music tracks. Director Quentin Tarantino has stated several times through the years that he avoids using full scores of original music out of fear for not liking the composer's work and rejecting it. The film's soundtrack album was released on December 18, 2012.It is an astonishing movie
Tracks composed purposely for use in the film:
"100 Black Coffins" by Rick Ross and produced by and featuring Jamie Foxx
"Who Did That To You?" by John Legend
"Ancora Qui" by Ennio Morricone and Elisa
"Freedom" by Anthony Hamilton and Elayna Boynton.
Musician Frank Ocean also wrote an original song for the film's soundtrack, but was rejected by Tarantino who explained that "Ocean wrote a fantastic ballad that was truly lovely and poetic in every way, there just wasn't a scene for it." [1]
Track Listing
WINGED
DJANGO (MAIN THEME) - LUIS BACALOV, ROCKY ROBERTS
THE BRAYING MULE - Ennio Morricone
IN THAT CASE, DJANGO, AFTER YOU...
LO CHIAMAVANO KING (HIS NAME IS KING) - LUIS BACALOV, EDDA DELL'ORSO
FREEDOM - ANTHONY HAMILTON & ELAYNA BOYNTON
FIVE-THOUSAND-DOLLAR NIGGA'S AND GUMMY MOUTH BITCHES
LA CORSA (2ND VERSION) - LUIS BACALOV
SNEAKY SCHULTZ AND THE DEMISE OF SHARP
I GOT A NAME - JIM CROCE
I GIORNI DELL'IRA - RIZ ORTOLANI
100 BLACK COFFINS - RICK ROSS
NICARAGUA - JERRY GOLDSMITH FEATURING PAT METHENY
HILDI'S HOT BOX
SISTER SARA'S THEME - Ennio Morricone
ANCORA QUI - Ennio Morricone and Elisa
UNCHAINED (THE PAYBACK/UNTOUCHABLE) - JAMES BROWN AND 2PAC
WHO DID THAT TO YOU? - JOHN LEGEND
TOO OLD TO DIE YOUNG - BROTHER DEGE
STEPHEN THE POKER PLAYER
UN MONUMENTO - Ennio Morricone
SIX SHOTS TWO GUNS
TRINITY (TITOLI) - ANNIBALE E I CANTORI MODERNI
Listen
References