Welcome to...
The Encyclopedia Dedicated to Django Unchained (the D is silent)
Currently 85 articles dedicated to Quentin Tarantino's Django Unchained
WHAT IS DJANGO UNCHAINED?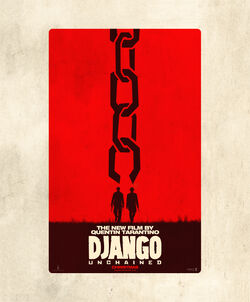 In the South two years before the Civil War, Django, a slave with a brutal history with his former owners, lands face-to-face with German-born bounty hunter Dr. King Schultz. Schultz frees Django, though the two men choose not to go their separate ways. Instead, Schultz seeks out the South's most wanted criminals with Django by his side. Honing vital hunting skills, Django remains focused on one goal: finding and rescuing Broomhilda von Shaft, the wife he lost to the slave trade long ago.
Django and Schultz's search ultimately leads them to Calvin Candie, the proprietor of "Candyland," an infamous plantation where slaves are groomed by trainer Billy Crash to battle each other for sport. Exploring the compound under false pretenses, Django and Schultz arouse the suspicion of Stephen, Candie's trusted house slave. If Django and Schultz are to escape with Broomhilda, they must choose between independence and solidarity, between sacrifice and survival…
NEWS

PREMIERE CANCELLED The Los Angeles premiere for Quentin Tarantino's film Django Unchained, a violent spaghetti Western slave revenge tale, was canceled on Monday in the wake of the school shooting in Connecticut last week. "Our thoughts and prayers go out to the families of the tragedy in Newtown, Ct, and in this time of national mourning we have decided to forgo our scheduled event," said a spokesperson for The Weinstein Company. "However, we will be holding a private screening for the cast and crew and their friends and families. - Reuters
SOUNDTRACK RELEASED The soundtrack has been released and is available to stream here on the Wiki. It includes songs from Ennio Morricone (who composed music for Sergio Leone's Spaghetti Westerns) as well as John Legend, Rick Ross, James Brown, 2Pac, Jamie Foxx and more. -EW
FRANK OCEAN DROPPED Singer Frank Ocean, who wrote a song for Django Unchained, was left off of the film's soundtrack despite producing a song lauded by Tarantino himself. "Frank Ocean wrote a fantastic ballad that was truly lovely and poetic in every way, there just wasn't a scene for it," the director said. "I could have thrown it in quickly just to have it, but that's not why he wrote it and not his intention. So I didn't want to cheapen his effort. But, the song is fantastic, and when Frank decides to unleash it on the public, they'll realize it then." - Spin
FEATURED ARTICLE: QUENTIN JEROME TARANTINO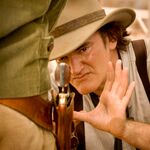 Quentin Jerome Tarantino is the writer and director of Django Unchained, his eighth movie. Born on March 27, 1963, in Knoxville, Tennessee, Tarantino dropped out of high school at the age of 15, attending instead full-time acting lessons at the James Best Theatre Company. At the age of 22, Tarantino worked at a video rental store Video Archives, where his fascination with films and cinema grew stronger. (more...)