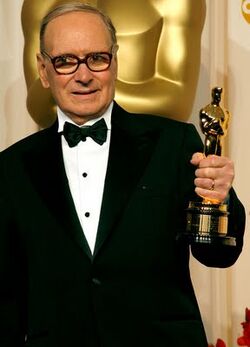 Ennio Morricone, Grand Officer OMRI (born November 10, 1928) is an Italian composer and conductor who has contributed three songs to the soundtrack of Django Unchained.
Originally from Rome, Morricone who has written music for more than 500 motion pictures and television series, in a career lasting over 50 years. His scores have been included in over 30 award-winning films as well as several symphonic and choral pieces. Morricone is most famous for his work in the Spaghetti Westerns directed by his friend Sergio Leone, including A Fistful of Dollars (1964), For a Few Dollars More (1965), The Good, the Bad and the Ugly (1966), and Once Upon a Time in the West (1968), but his career includes a wide range of composition genres making him one of the world's most versatile, prolific and influential artists.
Songs in Django Unchained
See main article: Django Unchained/Soundtrack
The soundtrack features four songs by Ennio Morricone:
Un Monumento
Sister Sara's Theme
Ancora Qui
The Braying Mule
External Links
Community content is available under
CC-BY-SA
unless otherwise noted.